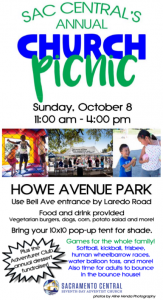 Sunday October 8, 2017  from  11:00 AM – 4:00 Pm.
At Howe Avenue Park in Sacramento.  Use the Bell Ave entrance near Laredo Road.
Just bring your 10×10 pop-up for shade, folding chairs, and a great attitude, and come for a day of fun, fellowship, and laughter.
The Adventurer Club will be holding their annual dessert fundraiser.
There will be a bounce house.
Games for the whole family: softball, kickball, Frisbee, human wheelbarrow races, water balloon toss, and more.
Bring your bat, ball, and glove for the softball.
Food and drinks will be provided by the church: Vegetarian burgers, dogs, corn, potato, and more.