Pastor's Notes
Have We Entered The Early Time Of Trouble?
People have been wondering how the coronavirus crisis fits into prophecy. More specifically, some persons have suggested that we are now in the "time of trouble." Others have asked, are we now entering the early time of trouble the Bible speaks about? Let's consider what the Scriptures have to say and what insights may be found in the Spirit of Prophecy writings.
The Close of Probation and the Great Time of Trouble
In Daniel 12:1 we read that at a certain "time shall Michael stand up….and there shall be a time of trouble such as never was since there was a nation." Ellen White is clear in The Great Controversy, page 613, that Michael standing up means that "Jesus ceases His intercession in the sanctuary above." She then quotes Revelation 22:11, "he that is filthy, let him be filthy still; and he that is righteous, let him be righteous still." She explains. "Every case has been decided for life or death. Christ has made the atonement for His people and blotted out their sins." This is the close of probation. Then follows the "great, final trouble" for "the inhabitants of the earth" (GC 614). She makes clear that the great time of trouble is the seven last plagues of Revelation 16 which cannot fall while Christ is still interceding in the sanctuary in heaven (GC 627).
The Early Time of Trouble is Decision Time
The idea of an "early" time of trouble suggest that there is a time of trouble prior to the "great time of trouble." This would be when people are needing to make their final decision before it's too late. Ellen White explains this in Early Writings, page 85.


"The commencement of that time of trouble, here mentioned, does not refer to the time when the plagues shall begin to be poured out, but to a short period just before they are poured out, while Christ is in the sanctuary. At that time, while the work of salvation is closing, trouble will be coming on the earth, and nations will be angry, yet held in check so as not to prevent the work of the third angel."
She goes on to explain that the "latter rain" must come from the Holy Spirit "to give power to the loud voice of the third angel and prepare the saints to stand in the period when the seven last plagues shall be poured out" (EW 86).
The Focal Point of the World During the Early Time of Trouble
So, we can see that the early time of trouble comes before the close of probation and the seven last plagues. It is the time for the people of the world to make their final decision. What decision needs to made? To follow God or not, right? But what is the focal point, the issue of at hand that reveals each person's decision?


In the Bible we are told there will be a major deception of Satan to deceive the world into thinking they are following God when they are actually rebelling against Him. Where in the Bible are we told about some evil powers that will work to deceive the inhabitants of the world? Revelation 13, right? So then, what does Rev. 13 refer to as the focal point for every person's final decision? It is the "mark of the beast" crisis that will show who follows God or not, correct? So, what is the mark of the beast?


First, those who receive the mark are in contrast to God's remnant people who keep God's commandments (Rev. 14:12). Second, God's commandments, of course, include the fourth one, the Sabbath Commandment of which God's remnant people are obedient. "The Sabbath question is to be the issue in the great final conflict in which all the world will act a part" (Testimonies, Vol. 6, page 352). It is loyalty to God versus loyalty to man (really Satan).
The Mark of the Beast Initiates the Early Time of Trouble
It's the urging and enforcing of the mark of the beast that initiates the final crisis. The national Sunday law is what begins the early time of trouble. What do we see in Rev. 13 that has to be formed before the mark of the beast can be enforced? The "image to the beast" must be set up. That is the union of church and state like the papacy had during the Middle Ages. When will we know that the image to the beast is formed? We won't know for sure until the mark of the beast is enforced, that is, when the national Sunday law hits. This is clear in The Great Controversy by Ellen White:

"When the leading churches of the United States, uniting upon such points of doctrine as are held by them in common, shall influence the state to enforce their decrees and to sustain their institutions, then Protestant America will have formed an image of the Roman hierarchy, and the infliction of civil penalties upon dissenters will inevitably result" (GC 445).


"The enforcement of Sunday keeping on the part of Protestant churches is an enforcement of the worship of the papacy—of the beast….In the very act of enforcing a religious duty by secular power, the churches would themselves form an image to the beast; hence the enforcement of Sunday keeping in the United States would be an enforcement of the worship of the beast and his image" (GC 448, 449).

"The prophecy of Revelation 13 declares that the power represented by the beast with lamblike horns shall cause 'the earth and them which dwell therein' to worship the papacy—there symbolized by the beast 'like unto a leopard'" (GC 578).


"This prophecy will be fulfilled when the United States shall enforce Sunday observance, which Rome claims as the special acknowledgment of her supremacy" (GC 579).


"Political corruption is destroying love of justice and regard for truth, and even in free America, rulers and legislators, in order to secure public favor, will yield to the popular demand for a law enforcing Sunday observance" (GC 592).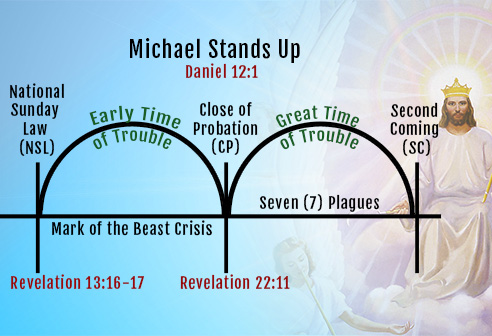 What About the Coronavirus Pandemic?
Has the coronavirus crisis had anything to do with a national Sunday law? No. So, has the coronavirus put us into the early time of trouble? No. Could events lead that way? That is possible, but we have to admit that we do not know if that will happen. It could be that a few years from now we will be able to look back on this crisis similarly to how we see the Y2K drama in 2000 and the 9/11 terrorist attacks in 2011. However, we won't forget that this crisis has created a lot more inconvenience to our lives than those two did.


So, what can we say for sure about the coronavirus crisis and prophecy? The answer is in Matthew 24:7. "For nation shall rise against nation, and kingdom against kingdom: and there shall be famines, and pestilences, and earthquakes, in diverse places." The present crisis is a pestilence that is definitely a sign of Christ's return the same way an earthquake is a sign.
What Makes the Coronavirus Different?
The worldwide nature of the coronavirus makes it stand out and give people all over the globe a wake-up call with a greater urgency than we have ever seen before, right? For most of us, yes. However, it must be kept in mind that during World War II, war was worldwide, deaths were over 50 million, milk and toilet paper, and other items were rationed, rubber and metal items were turned into the government, and houses with sick people were put on quarantine. Even in the United States, they didn't know if they would prevail or be conquered.


On many of these points, they had a stronger case than we do with our coronavirus to say they were in the time of trouble. Some of you remember those days during WWII. On the other hand, society has become much more immoral and satanic since those days. The demonic influence in some movies and music often isn't even subtle. The demand for acceptance of all the confusion in sexuality often seems to be flaunted in our faces.


Yes, things are different. Time is running out. Signs of it are all around us. We need to wake up if we've been in a Laodicean slumber. While the coronavirus does not mean that we are in the early time of trouble, it certainly is a sign that it is time to draw closer to God to prepare our hearts for Jesus' return.


Fred Dana, Associate Pastor
Happenings
Services Livestreamed
Central's board voted this week to continue to offer Sabbath services online only throughout most of April. This means in-person services will continue to be suspended until further notice. Members are encouraged to continue to connect via phone, text, or virtually. If in-person, please ensure no one is sick and that the number of guests in a home is limited to 6.
World Day of Prayer
The first Sabbath of each quarter of the year our world church invites its members across the globe to unite in prayer. Our world is hurting and broken, and Jesus has committed the work of help and healing to the church. Let us join the world church in praying for the outpouring of the Holy Spirit on April 4, 2020.
Mid-Week Bible Study
Every Tuesday at 7:00PM our study in The Great Controversy will be live-streamed from saccentral.org or livestream.com/saccentral. We continue our study in chapter 39, The Time of Trouble. Join Central's ministry team to learn more about last-day events in light of Bible prophecy.
Spiritual Immune Booster
Need a little spiritual pick-me-up? Want to connect with your church friends in a meaningful way? Then join your ministry team and elders Monday's & Thursday's, 10:00AM or 7:00PM, for a 15-minute spiritual immune booster. To get the call-in details, email office@saccentral.org. This offer is for Sacramento Central members only.
Hope Awakens
Join us for this virtual evangelistic opportunity as Central partners with It Is Written in their largest outreach endeavor yet. Starting April 17 and from the comfort of your own homes, Pastor John Bradshaw will be speaking to people in the Sacramento area and beyond sharing vital truths for today in light of the COVID-19 crisis. Learn more here:
ItIsWritten.com/HopeAwakens/
If you wish to be an online Bible worker (connecting with viewers via email and text) please let Pastor Chris know right away.
Q&A
Q. Are any of the children's Sabbath School classes offering a Sabbath School experience virtually?
A. We are thrilled to let you know that our Kindergarten and Primary classes are planning to use Zoom to provide your children with a Sabbath morning class starting this Sabbath. Contact Candice Tuazon at 951.965.7542. Youth and young-adult classes are also being provided. Check with Candice on those details as well.


Q. Where can I find updated information on how COVID-19 is impacting Central and its services?
A. To learn more about how COVID -19 has impacted Central, to get some of your questions answered, and to locate excellent resources for you and your family during this time, please visit saccentral.org/church-life-and-covid-19/


Q. I'm having a hard time figuring out how to sign into Adventist Giving to return my tithes and offerings. Is there an easier way?
A. Go to www.saccentral.org and click on the "Donate" button at the top of the page, or click here to go there directly. For instructions to set up a personal account with Adventist giving, review this short video. It's very easy.


Q. Do you know of any more kid-friendly programming or material you can recommend to keep my children occupied and in engaged in worthwhile endeavors?
A. We have learn about a few more offerings, and they're free:

Pathways of the Pioneers Stories are available for free download at

https://whiteestate.org/resources/pioneers-stories/

. At the top of the page they are for sale on CD, but if you scroll down to the bottom the MP3's are available as free downloads.

There's a neat little Adventist ministry in Australia for the kids called Creation Connection. They're offering some freebies during the month of April to help lighten the burden of self-isolation. Check it out.
During this time of instability, weekly Young Disciple

magazines can be something stable—a connection to the church, to God, and to each other. But they realize that it may be difficult or impossible for Sabbath School teachers to get the magazines to their students. This is why they are providing free weekly downloads of

Young Disciple

magazine during this time of uncertainty. Here's how you as a parent can connect: Go to

youngdisciple.org. Click "Magazine" and then "Free Weekly Digital Downloads". Or visit

youngdisciple.org/ydmagazine. Each Friday at noon Pacific Time they will upload the most current

Young Disciple

magazine—including the Bible Lesson.
Weekly Word From The Word Of God
"Be strong and of good

courage

, do not fear nor be afraid of them; for the Lord your God, He

is

the One who goes with you. He will not leave you nor forsake you." - Deuternomy 31:6