Is Central Still Open For Business?
We're living in very interesting times, aren't we. COVID-19 (otherwise known as coronavirus) has interrupted life as we know it. For now (and we hope for not long), this is the new normal. It seems everything has come to a grinding halt. And we wonder whether the consequences to the reaction to the virus will be more grim than the effects of the virus itself. One thing is certain: at this time, nothing is certain. But thank God, even though everything is fluid, He remains the same.


Many of us are trying to navigate through the changes and challenges this virus has created. Your church has been trying to do the same. Information coming to us changes each day. First we were given a directive to cancel gatherings of 250 or more, then, within short order, we were told no more than 50. Not long after that, the President of the United States recommended postponing gatherings of 10 or more, then on March 17, the Governor of the State of California ordered no gatherings at all, and as of today Sacramento County as been ordered to shelter-in-place.


All of this has been an attempt by local, state, and federal authorities to "flatten the curve," or put a lid on the spread of the virus to forestall more deaths and to prevent hospital overcrowding.
This past Monday our Board met to respond to the directives to minimize public gatherings. We needed to decide whether to remain open or temporarily close in-person Sabbath services.
Lots of discussion ensued. Varying thoughts and perspectives were shared. And after an hour or so of healthy dialogue, which began in prayer, the Board came to the painful decision to suspend Sabbath services for the rest of March, believing it was the responsible thing to do.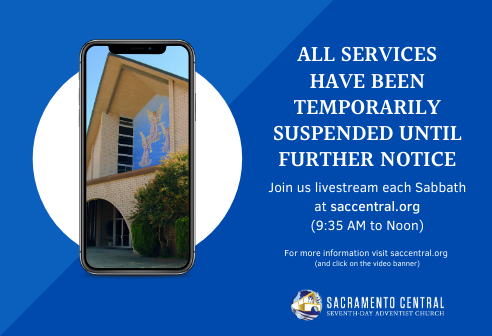 While this is unprecedented, we believe in a God who makes all things work together for the good (Rom. 8:28). We might not see the "good" right now, but we can be encouraged in the fact that God is working it out right now.


While we won't be able to congregate together for the next two Sabbath's, we can still worship together virtually. We are blessed at Central to have a committed media crew and reliable equipment in order to livestream our services. Most churches aren't so fortunate. So please plan to join us Sabbath morning (9:30 to Noon) on your device. Go to www.saccentral.org and scroll to the bottom of the homepage to find the livestream.


It will be nice to experience something familiar while we grapple with this unfamiliar virus.


We invite you to keep reading to find answers to your questions about church life at Central during this time of "social distancing." We hope it will prove helpful.
Answers To Your Questions
Q. How can I continue to return my tithe and offerings to the church?
A. There are several easy options:

Put a check in the mail made out to "Sac Central SDA Church". Please be sure to indicate what is tithe and what is offering.
Give online via our website. Go to www.saccentral.org and click on the "Donate" button at the top of the page, or click here to go there directly.
Give via the AdventistGiving app. Set up is easy and you can use it on any device.
Q. Do I need to continue to return tithe and offering while the church is closed?
A. We always need to return a faithful tithe and offering, not because the church tells you to, but because God's Word commands it. Giving enables us to overcome selfishness, which is a part of our human makeup. Your need to give is greater than the church's need of your gifts.


Q. How can I keep informed with what's happening at Central during this time and always?
A. You have some good options:

Check out the church bulletin (posted Thursday on our website, saccentral.org).
Subscribe to The Happenings, an e-newsletter from Central's ministry team, on our website. There you can also read the latest issue if you are not yet on our mailing list.
Join Central's group Facebook page. Do a search for "Sacramento Central SDA Church Member's Community Group" and ask to join.
Sign up to receive our "Weekly Weekend Update" phone call. Email churchclerk@saccentral.org and request your name be added. Please provide the best number you can be called on.
Q. Will something be provided for a children's and youth Sabbath School during this time?
A. Candice, our Youth-Young Adult Worker, is looking at virtual options for the youth and also plans to see if she can help our children's Sabbath School department find similar options. Please keep in mind, however, that our incredible teachers are volunteers who are also having to adjust their lives due to the virus. Stand by for more information on this shortly.


Q. Will other ministries still be meeting during this time?
A. Because the church campus will be closed on Sabbath there will not be any meetings on campus. Actually, some ministries have already indicated that they will not be meeting at the church during this time. Please check with the church office if you have any questions. Email office@saccentral.org.


Q. Can groups still meet at the church and eat and fellowship together Sabbath afternoon?
A. We are suspending all smaller potlucks and gatherings across campus for the remainder of March.


Q. Will there still be Prayer Meeting?
A. Prayer Meeting has also been temporarily suspended. However, we are looking into a virtual option so you can join us from home for that mid-week spiritual pick-me-up. Please stand by for more information concerning this. Any other scheduled mid-week events have also been postponed during the month of March.


Q. Will LIFE Groups still be meeting during this time?
A. Sacramento County has just been ordered to shelter-in-place. We are encouraging the groups to still meet, just via virtual platforms like Zoom, Go-To-Meeting, FaceTime, Skype, or phone conference.


Q. Will the church office be open during the week?
A. Sacramento County has been ordered to shelter-in-place until April 7. The office will remain open for now to fulfill essential functions. However, we are asking that you don't come to church unless it's absolutely necessary while this order is in place.


Q. Are there any resources you can point me to so I can engage my mind in worthwhile activities while at home?
A. Yes! Our website in and of itself has plenty of things to keep you busy for a while. You might enjoy the following:

Q. What Bible promises can I enjoy that will help me overcome fear, anxiety, or stress that I might be experiencing?
Q. What was the Board's reason for temporarily suspending Sabbath services?
A. Actually, there were multiple reasons that led the Board to this decision. But it should be stated from the onset that if the Board felt the church could remain open, it certainly would have preferred that option over this one. The Board gave consideration to the following (not in order of priority):

the directives issued by local, State, and Federal governing authorities, and the church's biblical responsibility to respect and cooperate with those directives without compromising principle;
information from the medical community related to the spread of the disease and the need for containment;
the responsibility to our community to not promote the spread of the virus by congregating;
a panicked public's perception of our congregation if we chose not to close and the harm it could cause to our present and future witness if it were discovered that one of our members unknowingly or inadvertently spread the virus to others.
Q. Isn't closing the church doors an over-reaction to the coronavirus?
A. The Board doesn't think so for the reasons already stated.


Q. Wouldn't closing the church doors be giving in to the government and therefore showing a lack of courage and conviction?
A. Someone wisely stated the following: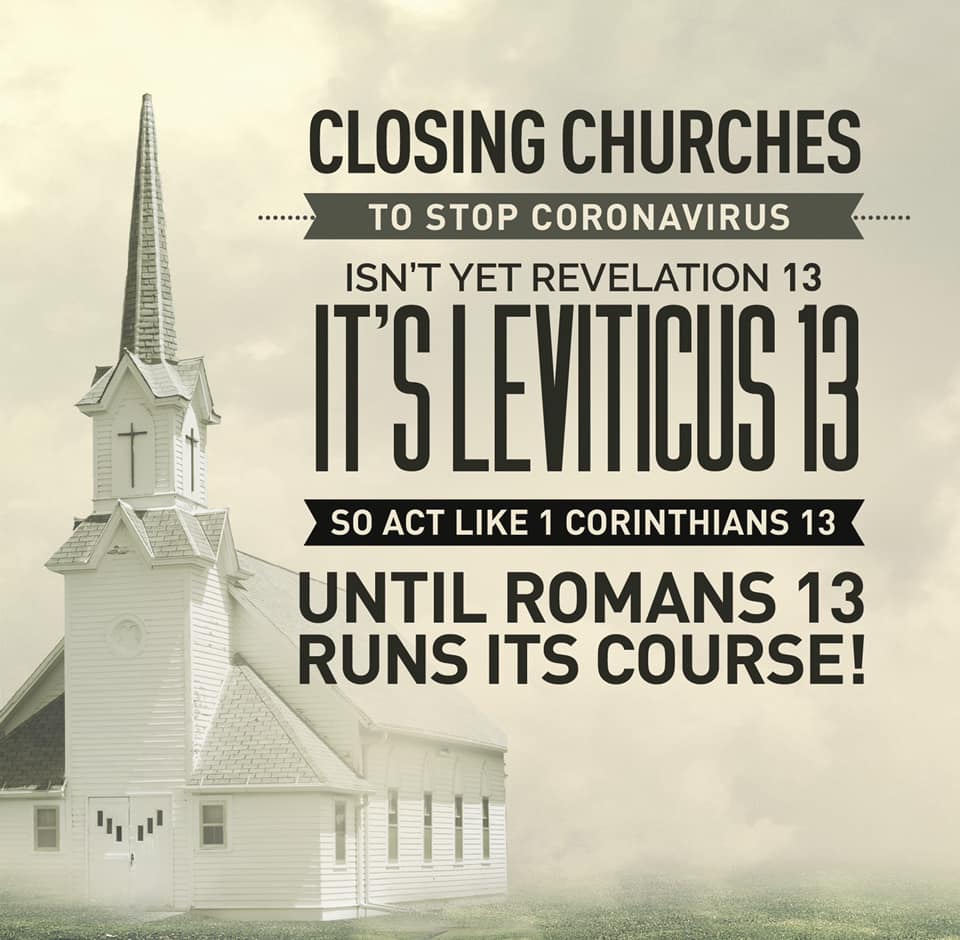 #ResourcefulNotFearful
Looking for a way to be helpful and resourceful during this time. Members of our church family might need your help, so might others...

Check with seniors. Ask how their health is doing and/or if they need help shopping.
Check with hourly wage earners. Ask how their financial situation is holding up.
Check with the younger around you. Ask them if they have enough supplies.
Check in on others by calling or FaceTiming. FaceTime is especially good for older members. You can visually check on them, and it lets them see friendly faces when they feel alone.
If you're a young adult, can you go shopping for more vulnerable older members?
Engage in "Viral Kindness". This is a neat way to check in on your neighbors to see how they are doing.
Resources For Families To Connect With God
Check out these great resources for you and your family.


Other
Read lots of stories! Especially Bible stories.
Play games---Bible Pictionary and Bible Charades are fun ones.
Do a fun craft (look on Pinterest)
Watch a nature documentary (Planet Earth is fantastic)
Please stay tuned for further updates.


We are praying for you and are confident that God will carry you through these difficult times. Jesus said, "Be of good cheer; I have overcome the world" (John 16:33). Be of good cheer today.


– Central's Ministry Team