Touching Base...
Someone recently said that the most useless purchase they made toward the end of 2019 was a 2020 planner! Who would have imagined that our lives would have been turned upside-down by an overseas novel virus? Yet is did and it has.


We know all too well how the COVID-19 has upset everything and everyone. I don't need to recount the fallout from the virus itself or the consequences that have resulted from the response to the virus. It's all been terrible and in many cases tragic.


On the positive side of things, we see some of humanity performing at its best. The "frontliners" have inspired us. We are reminded that the worst of times can bring out the best in people.


Through it all, however, while "men's hearts are failing them for fear and the expectation of those things which are coming on the earth," God wants His children to be hopeful and helpful as they "look up and lift up [their] heads, because [their] redemption draws near" (Luke 21:26-28).


It's not been easy for many people to live with the shelter-in-place restrictions. But there are some things we can each do to remain more than sane during this time:

Spend quality time in prayer and Bible study each day.
Stay socially connected.
Keep your household on a schedule.
Maintain your health.
Get outside when possible.
Help someone with a greater need than you.
Do something you enjoy each day.
Don't be afraid to seek help.
And whatever you do, don't focus on COVID-19!
During a time when resources might be tight for some of you, what should a person do?

Don't panic.
Always put God first in all things. He can't bless you if you don't recognize His ownership over your resources.
Get on a budget.
Focus on your what really matters (food, shelter, utilities, transportation).
Cut down on non-essential spending.
Put a hold on attacking your debt. Pay the minimum, but use the extra money to provide for your immediate needs.
God said if you seek Him first, He will take care of your needs (see Matthew 6:33). You can count on that!


I hope you've been able to avail yourself of all the resources we have posted for you on our website to help you and your family engage your minds in worthwhile activities during this time. There's a special page dedicated to that at SacCentral.org. Here's what you'll find:

Resources to help your family connect with God.
Creative ways to make a difference and connect with others.
Bible promises for anxiety, fear and stress.
Links to sermons, Bible studies, online books, and more.
Practical ways to return your tithe and offerings (hint: mail in, give via our website, or use the Adventist Giving app).
Answers to your questions related to church life and COVID-19.
Evangelism Focus Maintained
During this pandemic, Central has continued to remain focused on its vital mission of sharing Jesus and His soon return with others. Hope Awakens, with It Is Written's John Bradshaw, just concluded 20 nights of evangelistic presentations, all online! We had over 100 guests from our area register, with a number of them responding to texts and calls made by Central's very own virtual Bible workers. We just held our first Hope Awakens Community meeting (a virtual follow-up group with guests), a time to connect, pray and study the Bible. Please keep all our Hope Awakens contacts in your prayers.


Please also be praying for the thousands of individuals across Sacramento who received one of two colorful magazines in their mailbox—one on salvation, the other on the Sabbath. It appears that the timing to mass mail these couldn't have been better—with people at home with no place to go.


While the State of California slowly opens back up and the church doors remain closed for now, we will continue to provide our Sabbath morning services online. Options for our children, youth, young adults, and call-in options are also available. Please email office@saccentral.org for more information.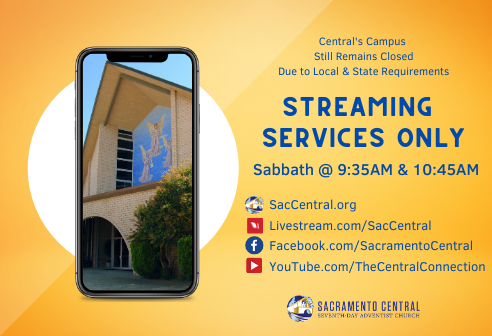 When Will Central Re-Open?
Many of you are no doubt interested to know when Central will be re-opening. I'll be happy to tell you what I know.


Twice, our Board has met—once to decide to close the campus, and the second to keep the campus closed (for the several reasons behind those decisions, please click here). After that, a Special Task Force was appointed to keep abreast of the issues and decide how to proceed in the light of new, forthcoming information from State and local authorities. That committee met again this past week and decided to reassess the situation in the middle of June, or sooner if need be.


As of this morning, the Governor of California announced that they are in the middle of Stage 2 in the State re-opening process. If things go according to plan (keeping in mind that not much has gone according to plan the last two months) we should be entering Stage 3 in several weeks. This is the stage we're interested in because it signals that we are close to re-opening the church doors.

No date has been set yet, but we anticipate it will be soon

.


In light of this the Board will soon be reviewing a proposed re-opening plan designed to ensure everyone feels and remains safe when returning to church. You'll hear more about this shortly.


Once we receive the go-ahead to re-open, you'll be notified that we are ready to resume in-person services. What an awesome day that will be! It will be good to connect again after being somewhat separated for the last couple of months. I suspect we have been in training to be among those described by John the Revelator in Revelation 14:12: "Here is the patience [perseverance] of the saints"!


In many ways, this has been a trying hour. We know that when we are tried we are supposed to learn something new and grow. What have those areas been for you? Does it have to do with how you take care of your health from now on? What about living your life with a stronger focus on what truly matters in life—faith and family? Have these weeks taught you to be kinder, more patient, or more thoughtful of others? Above all, I pray these moments have drawn you closer to Jesus and your families.


I want to let you know that your pastors, ministry team, and staff pray for you. I just met with the elders on Sabbath (via Zoom of course) and we prayed for you then too. I hope you know your church family cares about you. We're here for you. And soon, and very soon, we'll all be back together again. I just can't wait!


Chris Buttery, Senior Pastor